Garage Door Repair Services in Arvada, CO
Professional garage door repair services – Arvada, CO guarantees peace of mind for home owners and businesses. We are certified professionals, offering garage door repair and garage door parts replacement anywhere in Arvada, Colorado.
Why We are Extremely Helpful
For one thing, we have a 24-hour emergency service. In case of an emergency, you can call us any hour of the day – even if it is four in the morning. Our professional team of technicians will attend to your needs quickly. We specialize in repair and replacement of garage door opener, springs, tracks, drums, and panels.
In addition, our services come with 100% satisfaction guarantee. Whenever you use our services, we make sure the technicians are courteous and friendly. They also respond promptly to your call. Our repair truck reaches your place in a very short notice. We treat your business or home with utmost respect. We also complete the repair/replacement work in the shortest time possible.
Garage Door Repair, Arvada, CO
Sometimes your garage door can stop working without any obvious reason. The reason can be dented panels or tracks, damaged openers, springs, drum or rollers. You want the garage door to open, but have no idea how to open it. Just give us a call and our team will reach your place very shortly. The professionals are well trained, certified and uniformed. They assess the kind of repair needed, and the repair or replacement is always as speedy as it can get.
Garage Door Brands We Can Service:
Amarr
Chamberlain Liftmaster
Clopay Pro-Series
Craftsman

Genie
Linear
Overhead Door

Sommer
Wayne Dalton
Windsor
Garage Door Openers – Repair & Replacement
A garage door opener, often placed on the ceiling brings the convenience of an automatic garage door. Repair to this unit becomes necessary if it breaks down due to age or mis-use. Call us up. We can repair or replace the unit as needed.
Garage Door Springs
Springs are important mechanical parts of different garage door types, easily raising or lifting the door. Garage door springs handle much of the weight and pressure while opening and closing the door. The springs may ultimately lose its force and may even break. Call us to adjust the spring tension to make it work as new. If it is broken, we can replace it with Oil-Dipped door springs, which last for several years to come.
Garage Door Gone Off-Track
Garage doors can go off track because of different reasons like being hit by an heavy object, due to earth quake, or with wear and tear. Fix the damaged tracks and keep them aligned. Bring the track to its original shape and function. Give us a call any time you need professional attention to your garage doors.
Drum & Rollers
These are other mechanical parts, which can break or become loose. Call us today to let our professionals tighten or adjust the drum and rollers. In case you need it, we can replace existing cables with heavy-duty aircraft cables.
Garage Door Panels Repair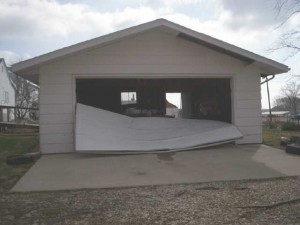 Garage door panels can get damages from accidents and weather elements. Fix this by replacing broken panels, while keeping the door in place. Give us a call. We always have a good collection of panels, with varying styles and colors. We can help you pick one that goes well with your existing door.
That is what we guarantee to homeowners and businesses, with our garage door repair services – Arvada, CO. Just give us a call whenever you need garage door repair services in Arvada, Colorado.